Outreach activities are an important aspect of our work.
UConn Chemistry Periodic Table Display
After decades of collecting and years of preparation, my personal dream project was completed in Spring 2023: The publicly accessible Periodic Table Display exhibits samples of the elements (where feasible) and related items of daily life, corresponding minerals, and key compounds, including samples from past and current teaching and research activities of the faculty of the Department of Chemistry.
The display was designed to weave a dense fabric of chemistry and its long-standing and comprehensive influence on every aspect of life; its density invites discovery and re-visits. Of the ~1200 samples included, some are quite unique, while many others are found in every household. Some samples hail from space, were gathered at the bottom of the ocean or pulled from the earth. Select items are genuine antiques, others are very precious, but plenty are neither – but all items were chosen to delight and educate. Items of vanity and luxury are next to items essential to life and tools. Medicine, engineering, the arts, chemistry, biology and aspects of history, geography, are represented. Come and enjoy.
Two interactive touch displays deliver additional information. For further information, see UConn Today,  UConn Magazine, or the UConn Department of Chemistry website (also for directions and access information).
---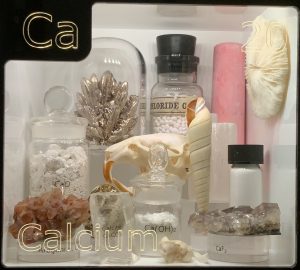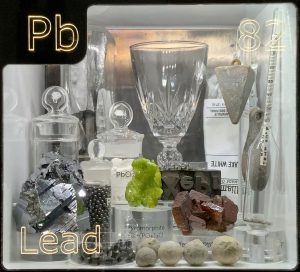 ---
UNESCO International Year of the Periodic Table of Chemical Elements
The year 2019 was the UNESCO International Year of the Periodic Table of Chemical Elements to celebrate its first publication 150 year ago by Dmitri (Mendelejeff, D. Zeitschrift für Chemie 1869, 12, 405–406).
We presented a range of talks to celebrate this occasion and to highlight the importance of the periodic table to chemists, to science, and to all enjoying the fruits of the chemists and science:
| | |
| --- | --- |
| | Lovell Catholic High School, 2/7, 2019 (Mendelejeff's b'day) |
| | Science Talks @Tilde Cafe, 3/2, 2019. YouTube link. |
| | Chemistry Olympiad @ UConn, 3/21, 2019 |
UConn Precollege Summer Program 2015 (with Clyde Cady) 'Chemistry: How to Synthesize Aspirin, Light-Harvesting Dyes, Secret Inks, and Much More'
Presentation of "Cadmium – from a chemist's view" to the Task Force on Cadmium on Children's Jewelry of the State of Connecticut General Assembly: Hartford, 10/2/2014.
| | |
| --- | --- |
| | ECE Summer Institute: EggCiting Chemistry! Co-developer (with N. Leadbeater) of a three-day workshop for Early College Experience (ECE) high-school teachers focused around using real-life examples – eggs – as tools for teaching high school juniors and seniors some of the concepts of General Chemistry (summer 2014). |
| | |
| --- | --- |
| Learning Science – A Workshop for Teachers on Student Engagement: co-Organizer (with H. Freake, UConn; M. Jehnings–Manchester Community C.; D. Khan-Bureau–Three River Community C.; M. Philion–Quinnebaug Valley Community C.) of this workshop for high school and college teachers and teaching assistants, UConn, 5/18/2012 (15 speakers/presenters, 85 attendees). | |
Mentor for SECRET (UConn School of Exploratory Chemistry Research Experience & Training) highschool participants, Summer 2011.
| | |
| --- | --- |
| | Participation, with scientist Hedley Freake and artist Daniel Bernard Roumain, in discussion "Threads of Creativity Across Art and Science", part of the Creativity Networking series at WindhamARTS in Willimantic, CT, a Year of Science 2009 event, organized by Steven Dahlberg (1/7/2009). |
Finals judge at the Middle School Science Bowl at UConn, 2009-2013.
Mentored high school student from Newton High School, Newton, CT, in a synthetic chemistry project. This was covered in: The News-Times, February 8, 2006, A4. 'Students find answers with a new high school science program' by Robert Gold.
| | |
| --- | --- |
| Interaction with the New England Association of Chemistry Teachers: Presentation at their annual meeting and contributions to their Journal: The NEACT Journal, 2000, 19(1), 10-13 and 2000, 19(2), 17-21. | NEACT Journal Cover Page 2000 (1) |